Last updated on November 2, 2023
Although the unemployment rate slightly decreased over the past 3 months, the number of unemployed people is still nearly double the number of job openings, and it seems that The Great Resignation will have a permanent impact on the labor market. 
The 3.8% national unemployment rate measured by the Bureau of Labor Statistics (BLS) in February was 2.4 points lower than in February 2021, but the quitting spree across the U.S. continues. And 77% of HR professionals in the U.S. believe that the historic staffing shortage has changed the workforce forever.
Why is everyone quitting?
COVID-related life changes and remote work becoming the new normal made employees reevaluate their preferences not long after the first wave of the pandemic hit. The urge for living a meaningful life and finding a purposeful career swept through the nation, which resulted in a rapid reallocation of the employee mindset.
What workers had considered to be stressful pre-pandemic, suddenly seemed unbearable. What they had compromised on, became intolerable.
This new mentality had such a huge impact on every generation, especially the Millennials, the largest age group of the labor force, that the two major drivers, job security and saving up, soon lost their significance.
Well-being became the number one priority, so people left their positions in masses. Some in the hope of better career opportunities, some decided to establish their own businesses, and it's shocking, but a huge number of employees left their jobs without a plan.
As a result, a record 4.5 million employees resigned voluntarily in November 2021, leaving 11 million positions unfilled. And as only half of the unemployed said they would return to work, the staffing shortage left a drastic workforce vacuum behind. For the first time in history, the federal government increased seasonal worker visas. In December 2021, the Department of Homeland Security announced that President Joe Biden will raise the cap on guest visas by 22,000.  
In which sectors did the most workers quit?
The wave of quitting was led by the food services and hospitality industry, with a 370,000 increase, BLS reported. Transportation was second in line, followed by warehousing. All four sectors saw an increase in resignation throughout the U.S.
But why were these sectors the most affected?
Because industry workers think that working in any of these fields can be highly demanding yet it is often not rewarded. Employees often feel that the long hours and exhaustive tasks are not compensated enough. 
Stressful working conditions, low pay, no flexibility options and the lack of work-life balance triggered the exodus. 
Quit rates by the sectors
Services industries were responsible for the highest rates of quitting, led by the food services and hospitality industry with 6.4%.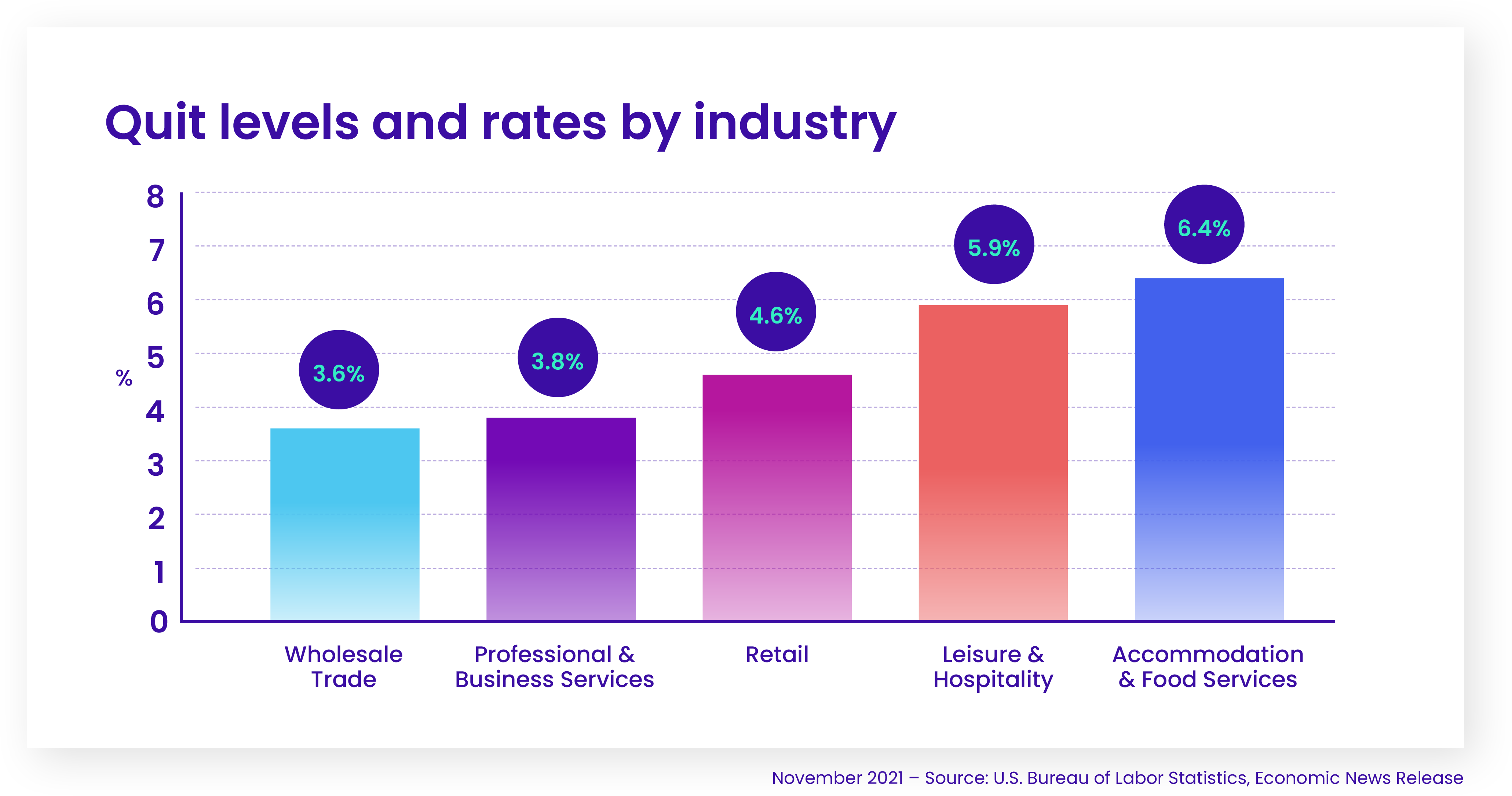 The state of the job market in 2022
The job market is going through a major transformation, and it seems that there is no way back. BLS projects that a robust number of vacancies will remain through 2022, up until 2023, the year when the youngest generation of boomers will reach the retirement age. 
A slow but steady growth in new hires is on the horizon in the food services industry as employers are raising wages and offering more training for restaurant workers. The sector added 61,000 jobs in March, BLS reported, but nearly 1 million workers are still missing from employment. 
The demand for health care professionals will be remarkable in 2022, and BLS anticipates the health care and social assistance sectors to add 3.3 million jobs by 2023.
What's next?
Employers need to get prepared for a new workforce that will no longer tolerate being overworked and getting less than what they think they deserve. In other words, you will need to adapt to change.
To be able to maintain a successful team, your business will have to take every indulgence to entice and retain skilled talent. You will have to find new ways to attract them and earn their trust — and it might involve reinventing your human resources efforts.
There will be no other option than raising wages and making your new hires feel supported. The new workforce will only consider your positions if you can compensate them with competitive pay, incentives, flexibility, health care benefits, and opportunities to grow. And they will only accept your job offer if you can maintain a diverse, inclusive and welcoming workplace.
---
Would you like to take your recruitment to a whole new level? Let Boostpoint® find the employees you need with the power of Facebook and Instagram ads. Book a meeting today!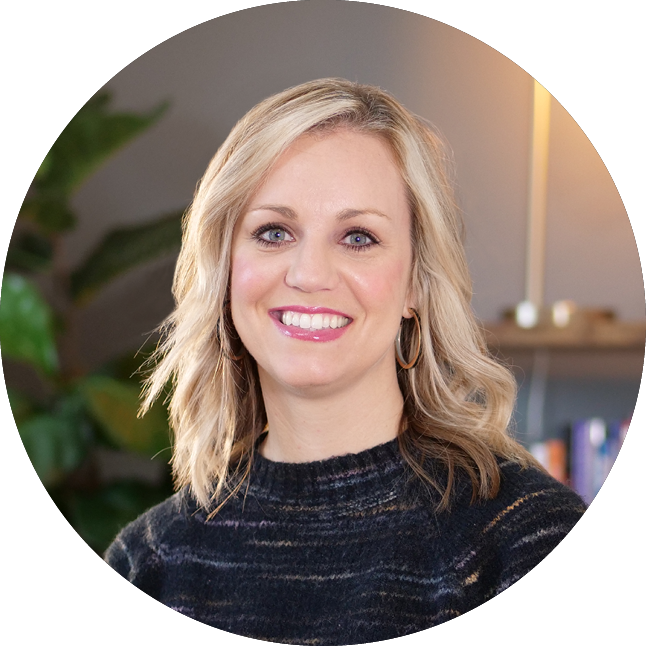 Lizz Durbin
Lizz is the Head of Customer Experience at Boostpoint where she oversees the entire customer journey for our users. With years of invaluable experience in recruitment, she empowers Talent Acquisition teams to find the best employees and escalate organizational growth. Her passion for fostering inspiring work environments, combined with her creativity and strategic mindset, greatly contributes to the advancement of Talent Acquisition.