The reason you said yes to recruitment is the people. Then you find yourself writing emails all day and connecting less with candidates. Now, imagine a day when you can write every recruiting email you need in seconds using AI, without juggling with templates and trying to personalize every email to the given position. Sounds great? Then it's time to let AI-powered technology do the heavy lifting. Generate unique, compelling emails that capture candidates in just a few seconds with Boostpoint Create.AI.
AI is becoming an essential element to hiring success today. In the U.S., 83% of employers use AI-driven tools to identify future employees and make their hiring process more efficient.
At Boostpoint, we believe that every TA professional deserves a recruiting software that makes their recruiting process easy, quick, and effective so that they can save time and truly focus on what matters the most: The human connection with their candidates. That's why we developed Boostpoint Create.AI, a new AI Writing Assistant that helps you write all the cold outreach and applicant follow up emails you need with just a few clicks.
Why use AI for writing recruiting emails?
Candidates receive numerous emails daily, making it challenging for hiring companies to stand out, so crafting a compelling subject line and message that resonates with the candidate's needs and interests requires careful consideration. Moreover, email scams and phishing attempts have made people cautious about opening unfamiliar emails. Thus, establishing genuine personalization and addressing their concerns in your emails can help you build candidate trust and increase the likelihood of hitting apply for your jobs.
That's why we combined AI's ability to process data and generate content infused with human creativity, so that you can instantly create branded recruiting emails that provoke a reply. From the subject line to the last word of your email body, everything you generate with Boostpoint Create.AI has a unique voice, so you can get your jobs through the sea of spams and lead your candidates actually reading through your emails.
Our revolutionary AI Writing Assistant comprehends the special requirements for each role across diverse fields, leverages time-tested recruitment content creation methods, and takes your company's information into account.
Streamline your recruitment process, elevate your employer brand, and grow your brand faster with Boostpoint Create.AI.
How you can shape the future of talent acquisition with Boostpoint Create.AI
Engaging with candidates via email will stay essential in recruitment marketing. With Boostpoint Create.AI, you can navigate the workload of emailing with greater precision and communicate faster.
As our user, you'll join a collective of modern recruiters who are pioneers in the industry, leading a new era of innovative recruiting.
When aiming to attract quality candidates, inclusivity is key. Due to a broader societal shift toward recognizing the value and importance of diversity, fairness, and equal opportunities, candidates are more likely to be attracted to companies that actively promote DEI (diversity, equity and inclusion) values. Boostpoint Create.AI highlights your DEI efforts by generating emails for you that demonstrate your commitment to building a diverse team. This enhances your company's reputation as a forward-thinking and socially responsible employer.
How Boostpoint Create.AI works
Let's see how easily you can create high-quality, personalized emails with your new AI Writing Asssitant, C.A.R.L., on Boostpoint Create.AI. Instantly generate multiple email versions, save time, and boost your response rates with cutting-edge features available only on Boostpoint.
1. Choose your tone
Whether it's an outreach email or a quick follow up, they all should be written in a style that is on brand and resonates with your candidates. Choose the tone fits your goals best and C.A.R.L will fine-tune the description for you.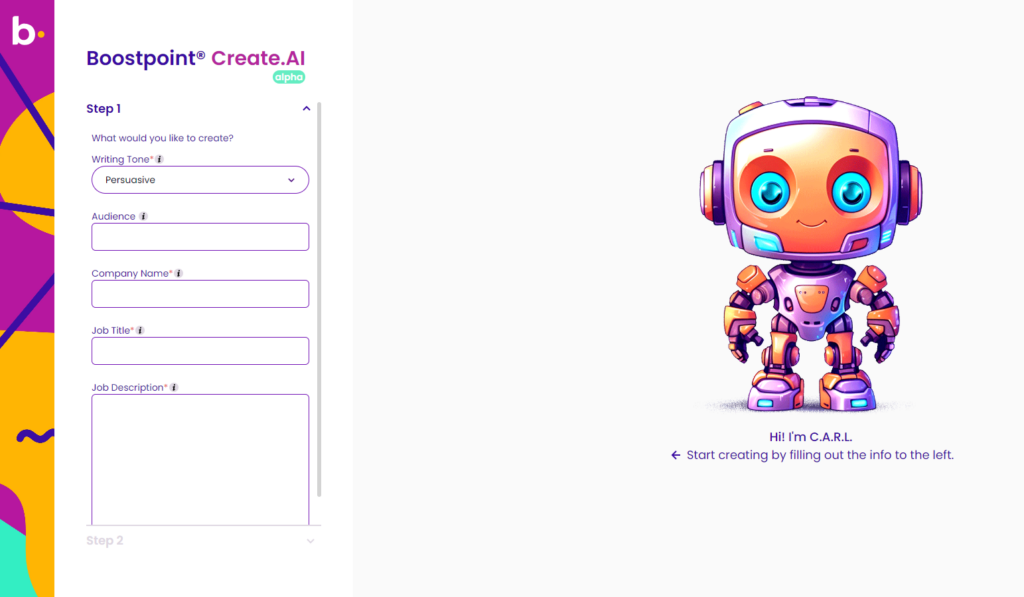 2. Identify your targeted candidates
The greater the precision of your target audience, the higher your chances of effectively attracting qualified candidates. Provide a brief overview of the individuals you aim to engage, and C.A.R.L. will tailor the content specifically for them.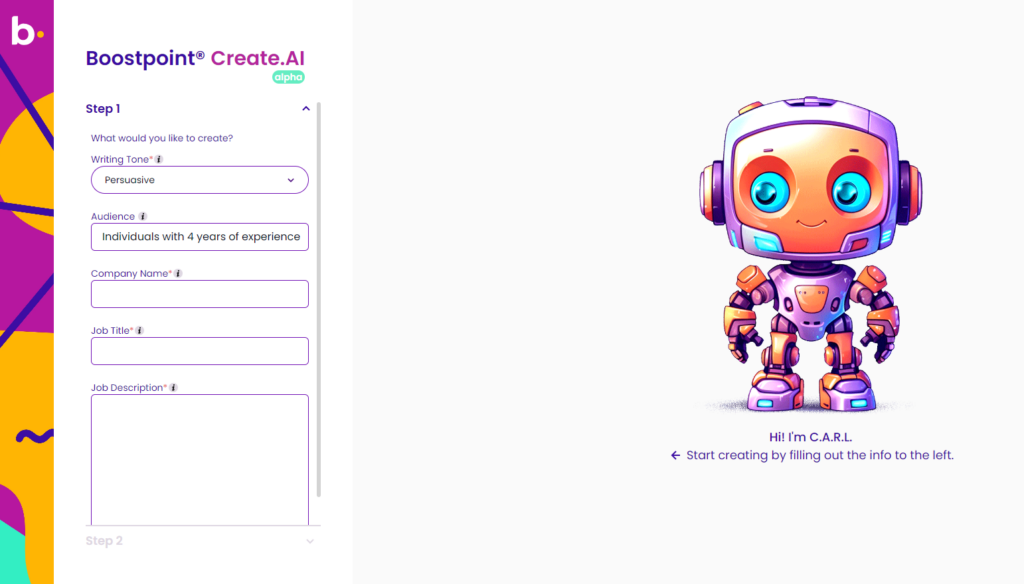 3. Insert your company's name
Your emails with C.A.R.L. will always be unique. He will optimize your content to your company's information so that you stay consistent.
4. Add your job title
You can count on C.A.R.L. no matter what position you are looking for. He'll swiftly craft comprehensive emails for every role you on your list.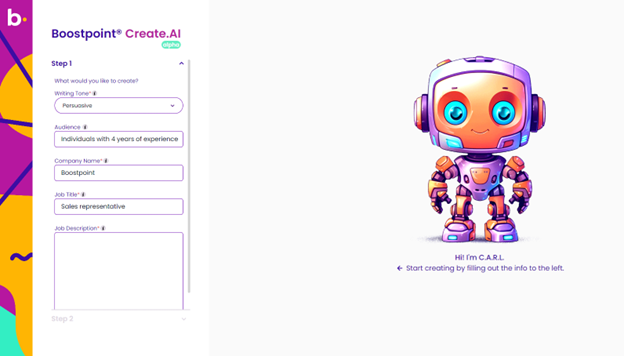 5. Give a brief description of the job
Make sure you include your non-negotiables and important touchpoints. You can be as brief as the example below, but the more information you provide C.A.R.L., the more accurate your content will be.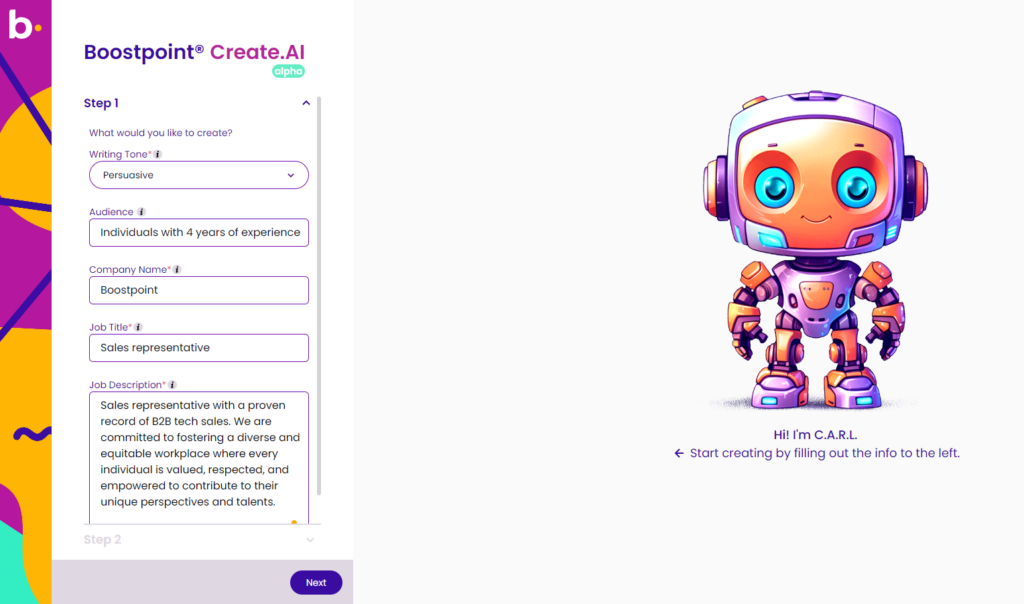 5+1. Make your emails inclusive
When candidates read your emails, they will immediately envision what it might be like working at your company. Showcase your employer brand's DEI efforts and increase the chance of getting them apply for your open roles by including elements in the description here, such as company values, workplace culture, and team dynamics.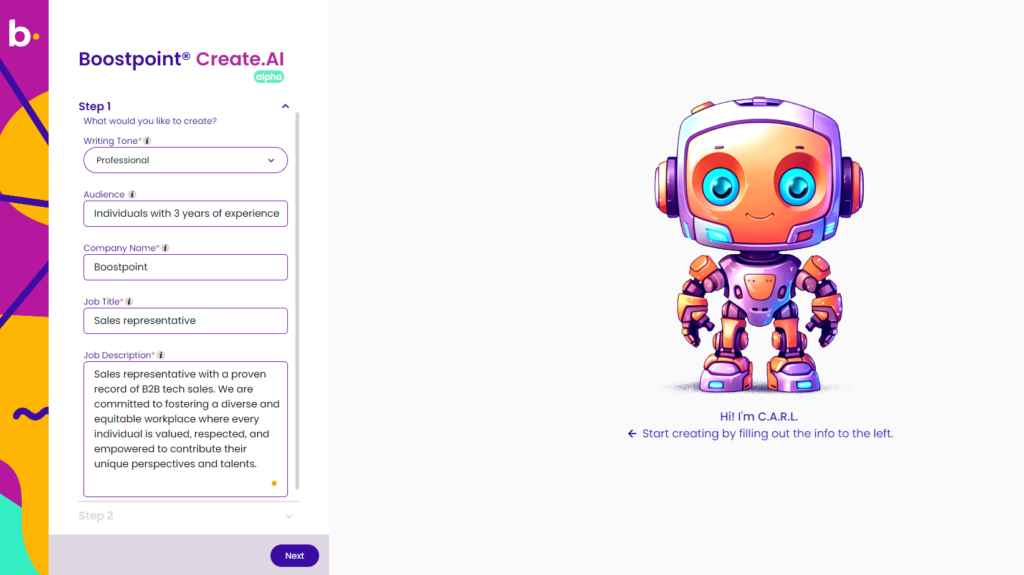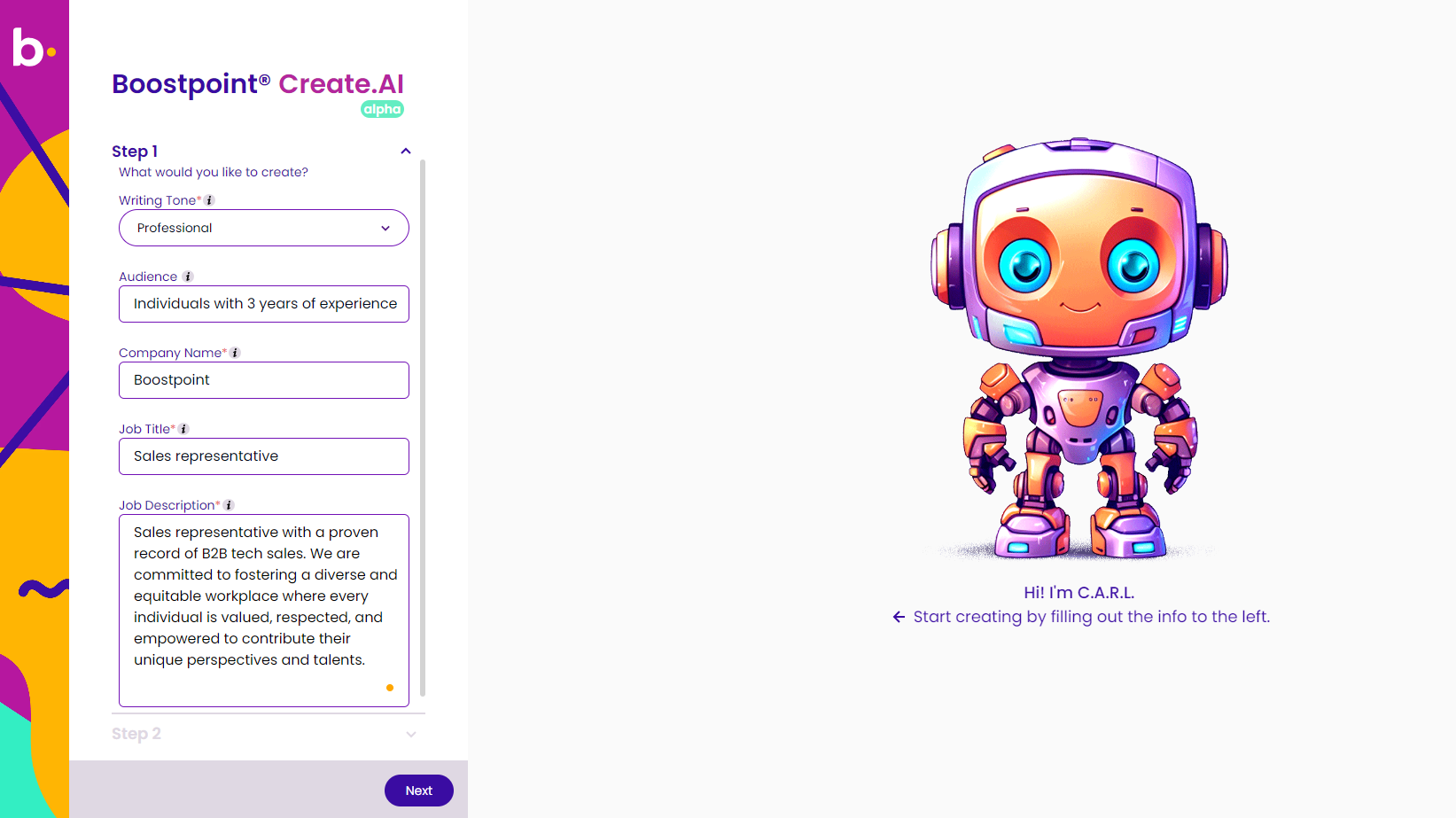 Let's create! Choose Email Hiring Campaign or Email Applicant Follow Up and start crafting the perfect recruiting emails!
Ready to generate the perfect recruiting emails with Boostpoint Create.AI? Get started for FREE and take the productivity of your talent acquisition team to the next level!