You don't have to spend ages writing job descriptions anymore. Or hire a marketing team member who would be spending the whole day crafting them for you. Generate more unique, accurate, and compelling job descriptions with the power of AI in less time.
With the rise of AI in recruitment and the significant impact of ChatGPT, it's crucial for employers to embrace this technology to stay competitive. 83% of U.S. employers are using AI to identify TOP talent and improve the candidate experience. Regardless of your experience level, AI-powered tech can skyrocket your efficiency as a recruiter.
At Boostpoint, we believe that every TA professional deserves a recruitment marketing software that makes their recruiting process easy, quick, and effective so that they can save time and truly focus on what matters the most: The human connection with their candidates. That's why we developed Boostpoint Create. AI, a new recruitment AI tool that helps you produce the most effective job descriptions with just a few clicks so you can amplify your productivity.
Why use AI for job descriptions?
By combining AI's ability to process data and generate content with human oversight and creativity, you can instantly produce the job descriptions you need and save time in the hiring process.
Imagine a work day when you do nothing but conducting interviews, building relationships, and staying up-to-date with recruitment trends. Instead of letting manual job description creation devouring your valuable hours, you enjoy the freedom to focus on other crucial aspects of your recruitment process. Boostpoint Create.AI allows you to turn this dream day into a reality by automating high-quality job description creation.
Our cutting-edge recruitment marketing tool comprehends the unique requirements for each role across diverse fields. Leveraging time-tested recruitment content creation methods and taking your company's information into account, Boostpoint Create.AI crafts professionally-written job descriptions and tailors them to your specific hiring goals. Streamline your recruitment process, elevate your employer brand, and grow your brand faster with Boostpoint Create.AI.
How you can shape the future of talent acquisition with Boostpoint Create. AI
Employer branding and recruitment content will be the most important initiatives for recruitment marketing success. You can navigate the ever-evolving recruitment landscape with precision, swiftly identifying and matching top-tier talent in a more efficient and cost-effective manner. As a Boostpoint Create.AI user, you'll join a collective of modern recruiters who are revolutionizing the industry, spearheading a new era of effectiveness and innovation.
When aiming to attract quality candidates, inclusive job descriptions are key. Due to a broader societal shift toward recognizing the value and importance of diversity, fairness, and equal opportunities, candidates are more likely to be attracted to companies that actively promote DEI (diversity, equity and inclusion) values. Boostpoint Create.AI highlights your DEI efforts by generating job descriptions for you that demonstrate your commitment to building a diverse team. This enhances your company's reputation as a forward-thinking and socially responsible employer.
"Writing a quality, engaging job description is challenging, especially when considering DEI factors. This often leads to delays in obtaining the final position from compliance. Boostpoint Create.AI to the rescue! Combining its generative AI solutions with your DEI guidelines, you can now effortlessly get job descriptions that attract TOP candidates fast."

Vince Moley
Head of Product at Boostpoint
How Boostpoint Create.AI works
Let's see how easily you can create a powerful description for any job with the help of your recruitment marketing assistant C.A.R.L., on Boostpoint Create.AI.
1. Choose your tone
Your job descriptions should be written in a style that speaks to the personality of your employer brand and captures candidate attention. Choose the tone that aligns with your hiring goal and C.A.R.L will fine-tune the description for you.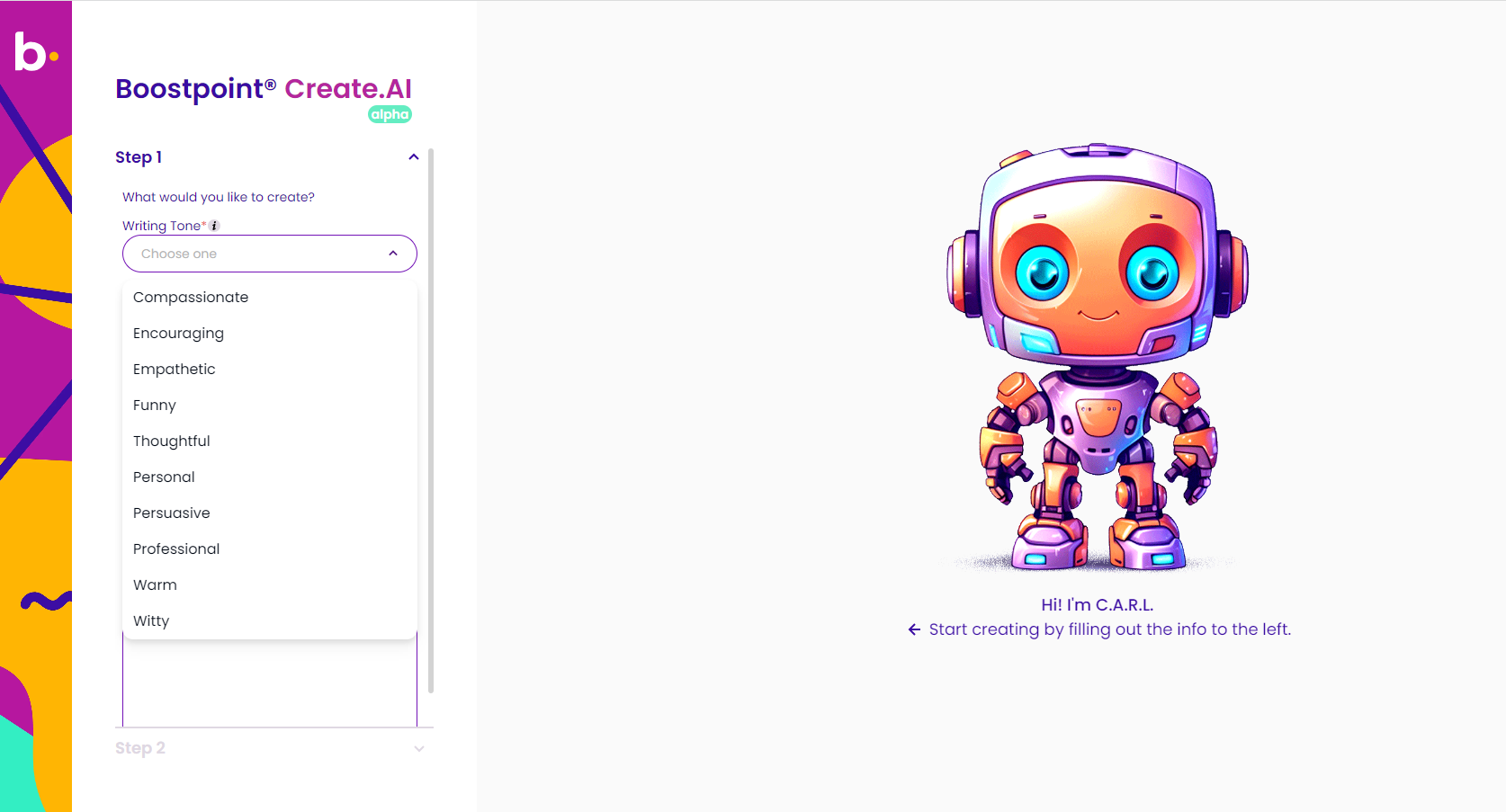 2. Identify your targeted candidates
The more specific your audience is, the more successful you can be with attracting qualified candidates. Give a short description of who you'd like to capture and C.A.R.L. will write specifically to them.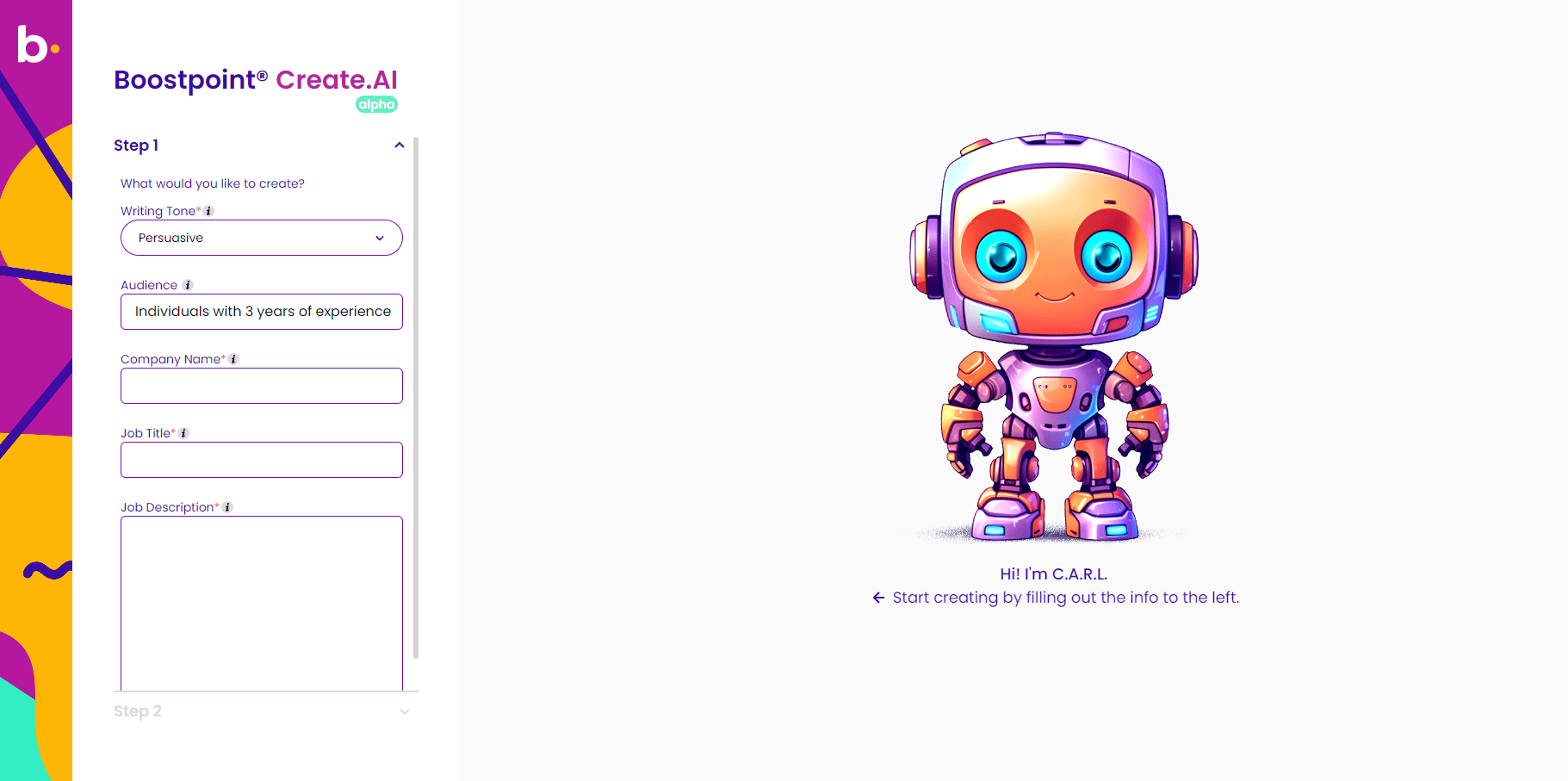 3. Insert your company's name
C.A.R.L. ensures that every job description is one of a kind. Give him your company's name and he'll optimize your content to your company information so that you can stay on brand.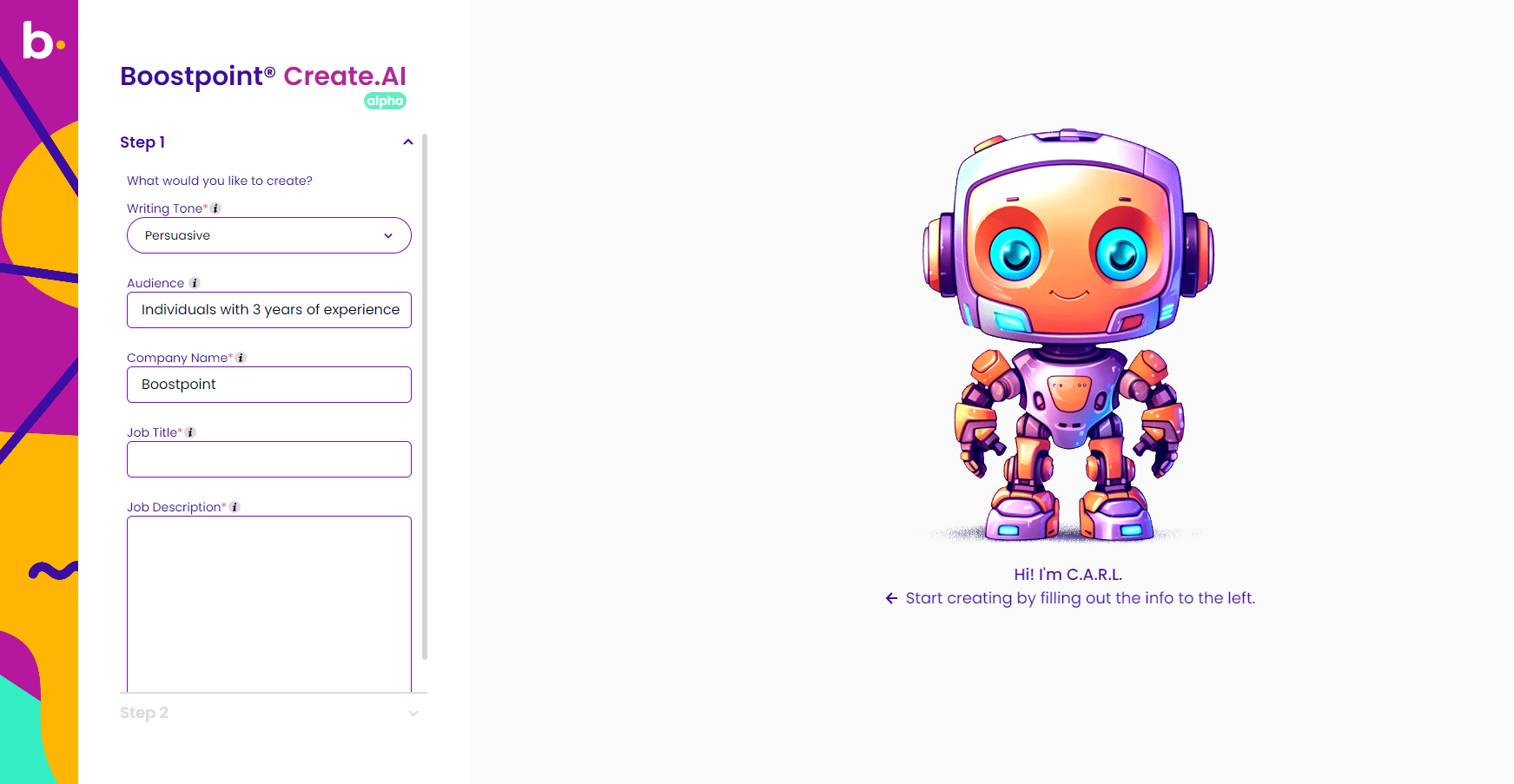 4. Add your job title
Whatever job you're hiring for, C.A.R.L. knows the nitty-gritty of each role and can quickly compile a job board posting that checks all the boxes.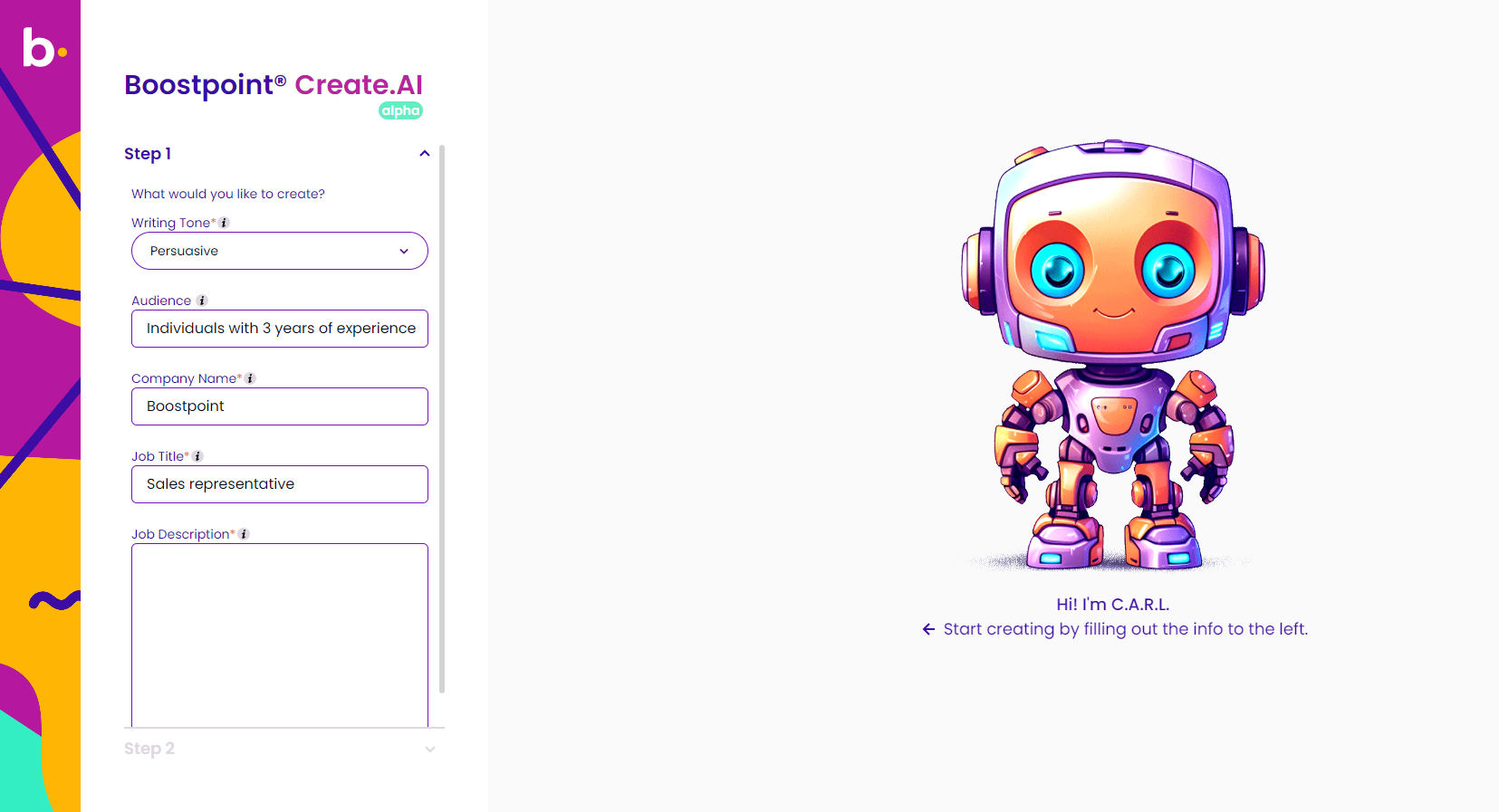 5. Give a brief description of the job
Add your non-negotiables and the key touchpoints of the role. It can be as short as in this example below, but the more information you give C.A.R.L., the more accurate he will be with your content.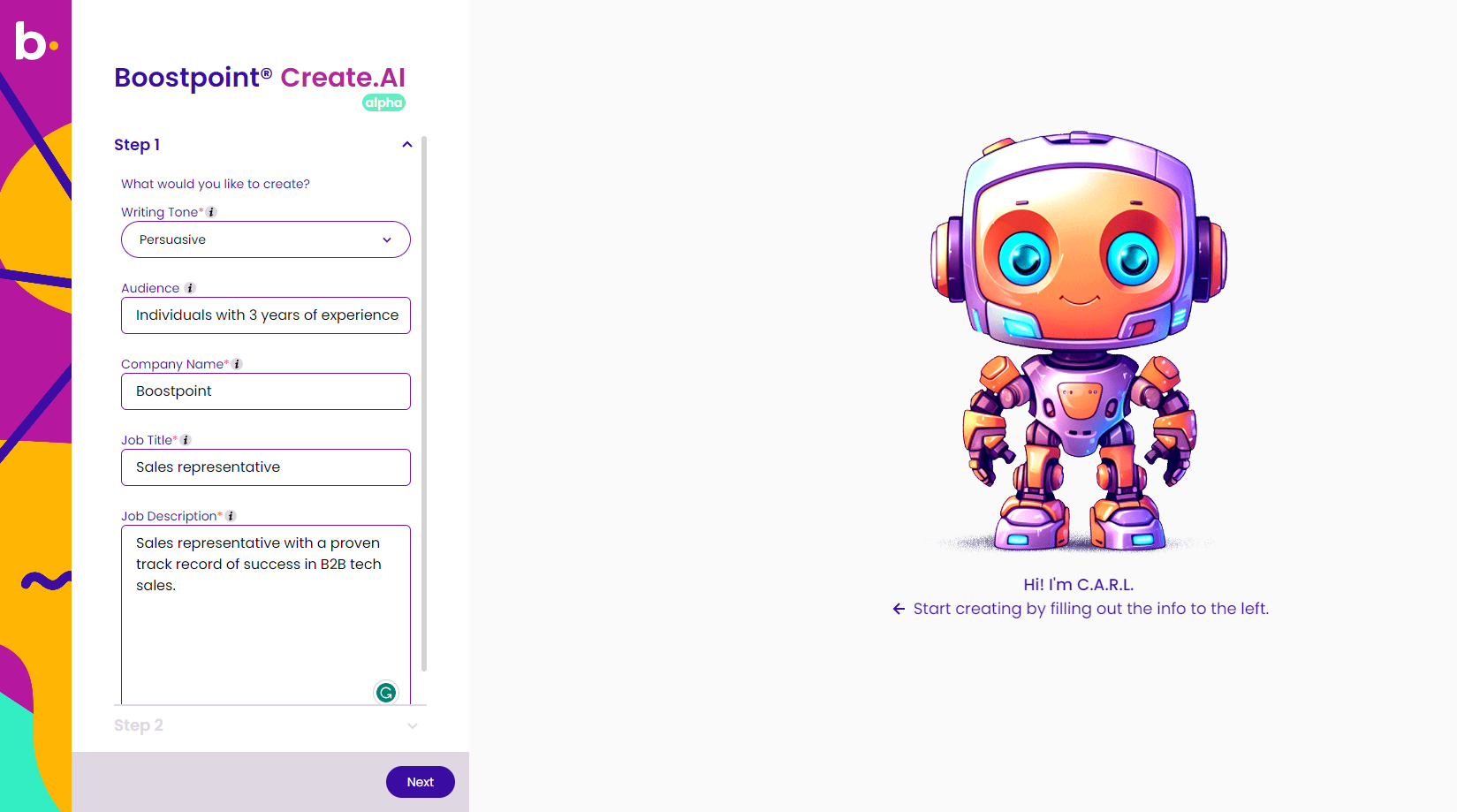 5+1. Make your job description inclusive
Include elements like your company values, workplace environment, and team dynamics in your job description so reading your final content, candidates can get a better understanding of what it's like to work at your company.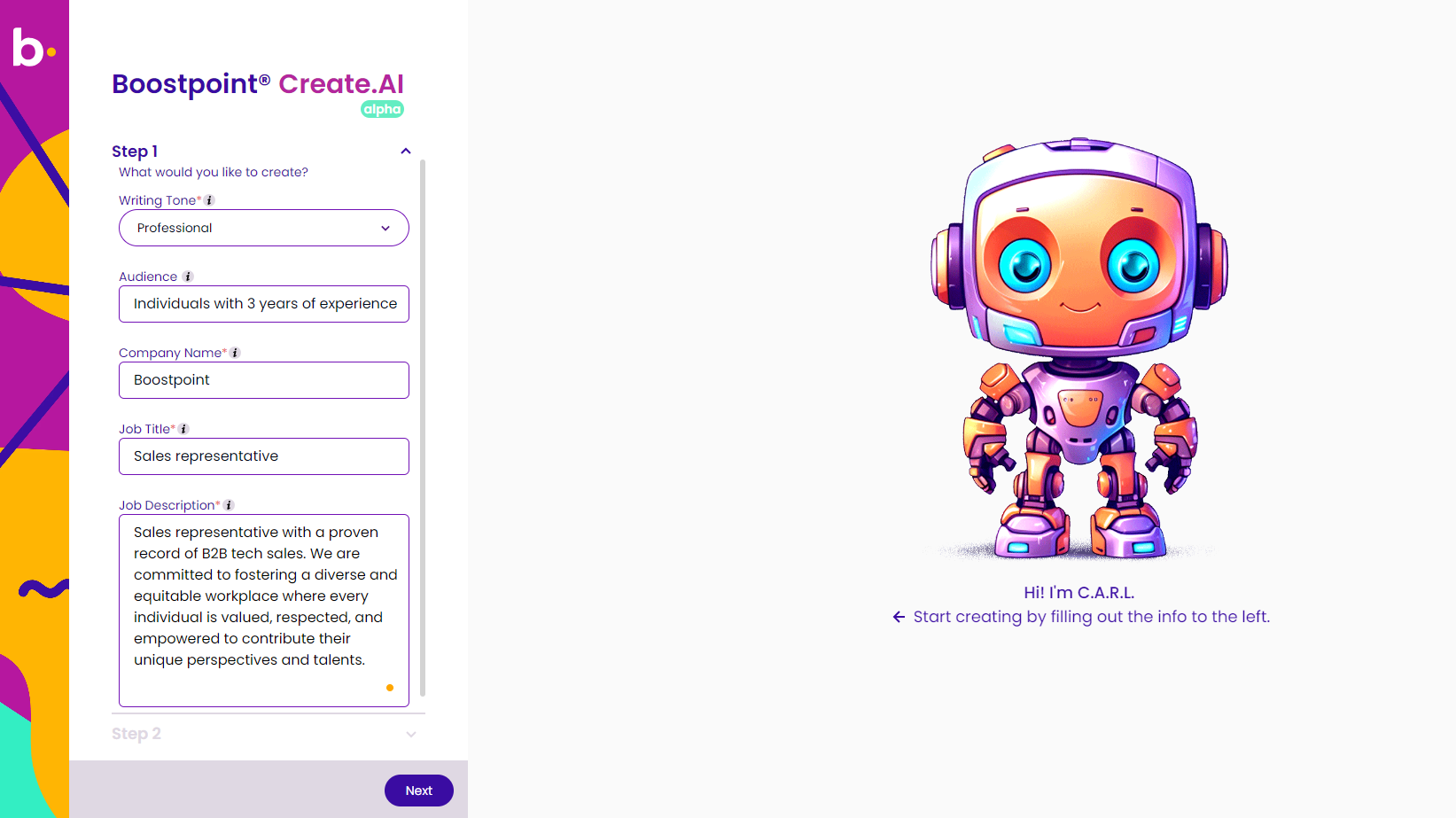 Now, it's time to create! Hit Next to generate the perfect job description.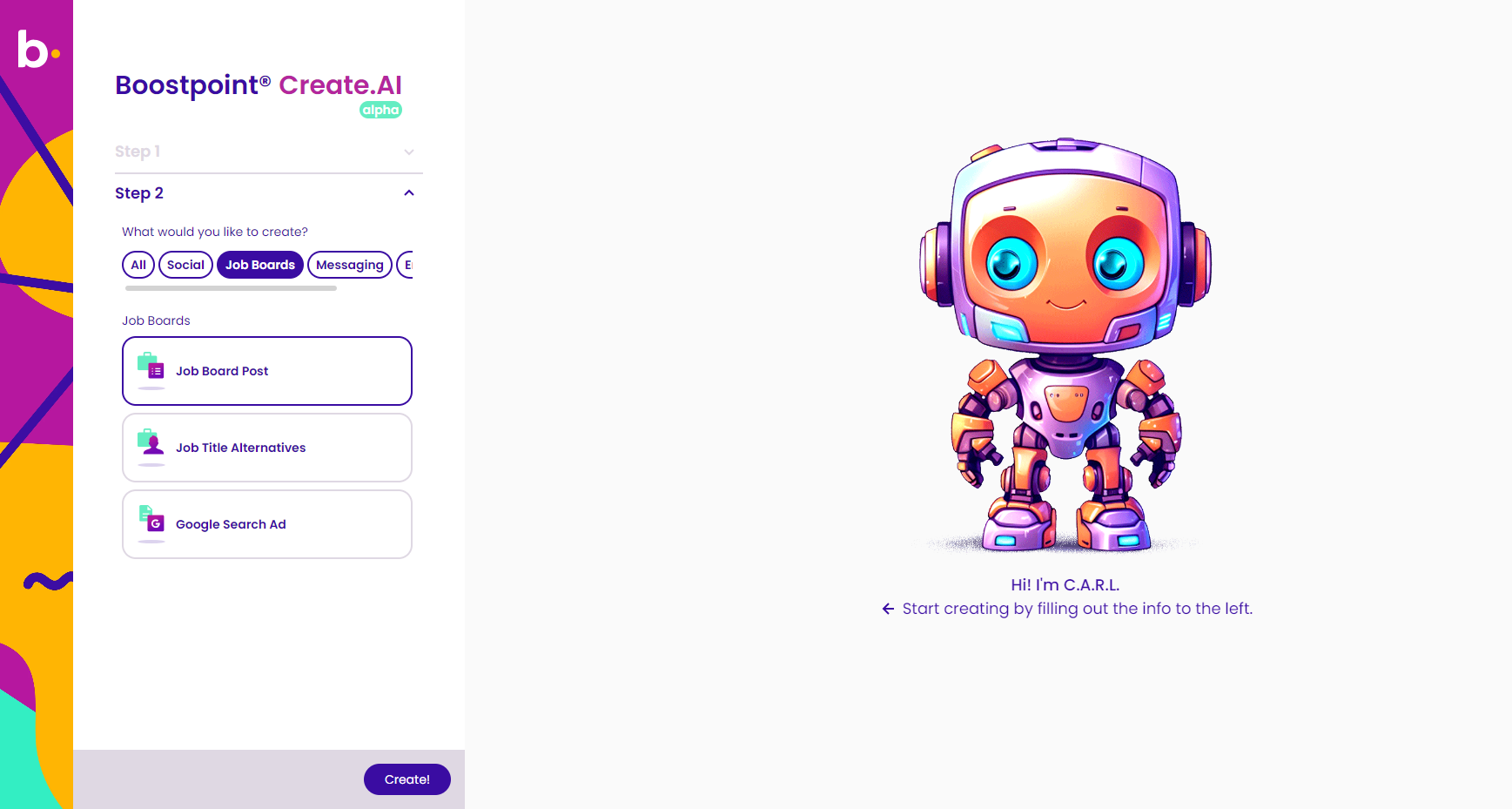 ---
Ready to generate the perfect job descriptions with Boostpoint Create.AI?

Get started for FREE
and take the productivity of your talent acquisition team to the next level.